| | | | | |
| --- | --- | --- | --- | --- |
| | | North Carolina Department of Public Safety | | |
Probation officer helps make Net a safer place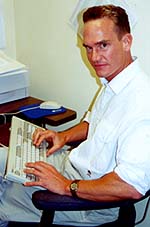 PITTSBORO - Probation/parole officer James Koch spends his working hours supervising a caseload of almost 100 probationers and parolees in Chatham County. In his spare time, he's a volunteer for CyberAngels, helping to make the Internet a safer place for all who use it.
CyberAngels volunteers patrol the Internet on the lookout for child pornography, child molesters and cyberstalkers. They also offer a wide variety of educational and help services to Internet users, like instructing parents on installing filtering software, and teaching new Internet users about protecting their personal information. The group grew out of the Guardian Angels in 1995.
CyberAngels is run completely by volunteers who come from all walks of life - attorneys, computer experts, psychologists and social workers. Koch is part of a growing group of law enforcement professionals who are volunteering their time.
"We're not out to limit anyone's free speech, or put legitimate websites out of business," said Koch. "We're out to go after sites that are blatantly illegal." The law enforcement volunteers assist by gathering evidence against illegal online operators, which they turn over to agencies that can prosecute. As the number of on-line crimes grows each year, many law enforcement agencies are turning to CyberAngels for help and training.
"A lot of small police departments don't have the resources or skills to investigate these kind of cases," said Koch. "They don't know how to trace an e-mail message, or what to do when someone complains about on-line stalking or a death threat received in a chat room.
"Since cyberspace doesn't have any limits, we sometimes find ourselves dealing with issues in places as far flung as Russia and Pakistan," said Koch. More often, volunteers find themselves responding to help requests submitted through the CyberAngels website, or offering advice and education in a CyberAngels chat room.
CyberAngels currently counts more than 1,300 volunteers worldwide, and the group is looking for more people who are willing to help. There is a particular need for psychologists, law enforcement officers and people with well-developed computer skills, but the group offers extensive on-line training and is open to those with little or no computer expertise.
"I went in with almost no computer skills and learned everything," said Koch. "If you can learn OPUS, you can learn this." Koch now gives about 10 hours of his time a week to CyberAngels, working from his home computer.
For more about how to become a CyberAngels volunteer; visit its website at www.cyberangels.org.
"A lot of people's lives have been dramatically improved by what we do," said Koch. "Some people's lives may have even been saved."
---
DPS | Adult Correction | Prisons | Community Corrections | Correction Enterprises | ACDP | News | Offender Info | Contact
© 1995-2012 North Carolina Department of Public Safety. All rights reserved.