| | | | | |
| --- | --- | --- | --- | --- |
| | | North Carolina Department of Public Safety | | |
Inmates fight erosion in Little Pisgah Mountain conservation project
April 12, 2001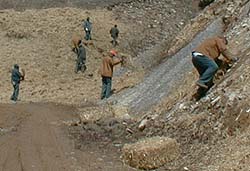 HENDERSONVILLE - Inmates from Henderson Correctional Center are working the mountainside on Little Pisgah Mountain, along the Henderson-Buncombe county line, helping four property owners control erosion left behind after years of logging and cattle grazing.
Inmates started work on the 4.3 acre hillside on March 26. They spread almost 400 pounds of seed, and more than 20,000 pounds of lime and fertilizer. They also laid 380 bales of straw mulch cover and mulch netting.
Mr. J.B. Gilbert, one property owner says this mountain side has been eroding for over 40 years. Without the inmates to perform this labor intensive work, this project would not have been possible, said Pamela Pyles, erosion control specialist.
---
DPS | Adult Correction | Prisons | Community Corrections | Correction Enterprises | ACDP | News | Offender Info | Contact
© 1995-2012 North Carolina Department of Public Safety. All rights reserved.