| | | | | |
| --- | --- | --- | --- | --- |
| | | North Carolina Department of Public Safety | | |
Foothills blood drive collects 39 units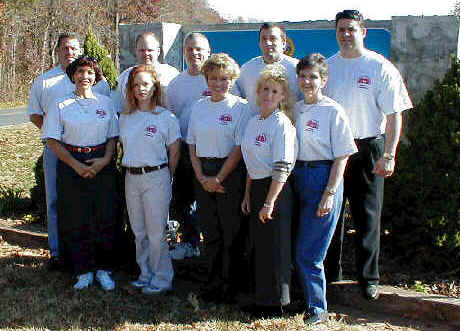 MORGANTON - On Tuesday, October 30, 2001, the Foothills Correctional Institution Fitness Committee sponsored their 2nd Annual Blood Drive, which resulted in donations of 39 units of blood.
The Foothills Fitness Committee has also assisted with providing exercise equipment for the facility fitness room. A future project, which is in the planning stage, is to build a walking trail on the grounds to provide a safe walking environment for Foothills employees. The Committee hopes to get this project underway in early spring 2002.
Foothills Fitness Committee members are pictured above. First Row - left to right: Ola Caldwell, Chrissie Rector, Ruth Ann Suttle, Malisa Coffey and Celeste Christy. Second Row - left to right: Lowell Summey, Chad Towery, Keith Mooney, Eric Shehan and Mike Price, Committee Chair.
---
DPS | Adult Correction | Prisons | Community Corrections | Correction Enterprises | ACDP | News | Offender Info | Contact
© 1995-2012 North Carolina Department of Public Safety. All rights reserved.