| | | | | |
| --- | --- | --- | --- | --- |
| | | North Carolina Department of Public Safety | | |
North Carolina
DEPARTMENT OF CORRECTION
Michael F. Easley, Governor Theodis Beck, Secretary
For Immediate Release
September 1, 2001
Contact: Keith Acree
(919) 716-3700
---
Sid Harkleroad to Lead Marion Correctional Institution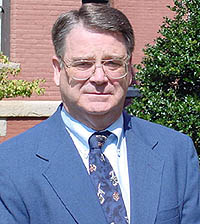 MARION Ė Correction Secretary Theodis Beck has named Sid Harkleroad as correctional administrator at Marion Correctional Institution.
"Sid Harkleroadís years of experience as a correctional programs administrator have prepared him well for this new challenge," said Secretary Beck. "I am confident he will be a strong leader for the staff at Marion."
Harkleroad helped open Marion Correctional Institution in 1995 and has served there as assistant superintendent for programs since then.
His career in corrections began as a correctional officer in California in 1964. After 13 years with the California Department of Corrections, he came to North Carolina in 1977 to take a position as program supervisor at Morrison Youth Institution. He was promoted to program director at Morrison in 1980 and assistant superintendent for programs at Hoke Correctional Center in 1990.
"Marion is a strong institution with a great staff and I look forward to working with all of them," said Harkleroad.
Harkleroad earned his bachelorís degree in criminal justice at California State University in Sacramento. He served two years in the Army, including 11 months in Vietnam. He is also a graduate of the departmentís Correctional Leadership Development Program.
Harkleroad grew up in eastern Tennessee, but now lives in Marion. Aleada, his wife of 40 years, is a deputy clerk of court in McDowell County. The Harkleroads have one adult son.
Marion Correctional Institution houses more than 700 adult male inmates and has a staff of about 360 employees. Harkleroad replaces Dean Walker who retired.
# # #
---
DPS | Adult Correction | Prisons | Community Corrections | Correction Enterprises | ACDP | News | Offender Info | Contact
© 1995-2012 North Carolina Department of Public Safety. All rights reserved.