| | | | | |
| --- | --- | --- | --- | --- |
| | | North Carolina Department of Public Safety | | |
Avery/Mitchell inmates publish High Country Herald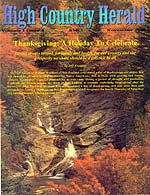 SPRUCE PINE - If you want to know what's going on at Avery Mitchell Correctional Institution, pick up a copy of the High Country Herald. The monthly paper was launched last year when Keith Johnson, assistant superintendent for programs at Avery/Mitchell, started looking for ways inmates could share information on classes, programs and activities at the prison. He also wanted to give graduates of the facility's GED and computer applications classes a chance to keep their writing and computer skills sharp.
The paper's first issue came out in March 2000 with a circulation of 125 copies -- all distributed within the prison. Now inmates print 175 copies each month, with some sent to the Division of Prisons area office and staff in the Education and Program services offices.
"We have a great staff of inmates working on the paper," said Bryan Johnson, who coordinates the program. "They put a lot of effort forward."
A staff of 10 inmates plans each month's issue. There are designated editors for layout, copy, sports, religion, features and graphics. Other inmates participate as contributing writers, creating their own original material, or editing material drawn from other publications.
Articles in November's issue included a health story on the negative effects of smoking, news of a proposal in the General Assembly for DNA testing of felony suspects, results of a recent weightlifting competition and several religious, inspirational and historical articles.
---
DPS | Adult Correction | Prisons | Community Corrections | Correction Enterprises | ACDP | News | Offender Info | Contact
© 1995-2012 North Carolina Department of Public Safety. All rights reserved.