| | | | | |
| --- | --- | --- | --- | --- |
| | | North Carolina Department of Public Safety | | |
McLawhorn receives John R. Larkins Award for human service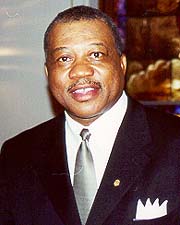 RALEIGH, Jan. 12 - Governor Mike Easley today presented the 2001 John R. Larkins Award, one of North Carolina's highest honors for human service, to Melvin C. McLawhorn, Eastern Region training coordinator for the Division of Community Corrections.
"Throughout his life, Melvin has been a tireless advocate for justice, freedom and equality for all," said Governor Easley. "For a state employee to qualify for this award, there must be evidence that the nominee took actions to improve communications and relationships between people of different racial or ethnic backgrounds and that is certainly true in this case."
The John R. Larkins award was established in 1998 to honor a state employee who best exemplifies the pioneering spirit of public service evidenced by the unwavering commitment of John R. Larkins to strengthening human and race relations in North Carolina. It is presented each year by the Governor during the State Employees Dr. Martin Luther King Jr. Observance Program.
McLawhorn has been a Department of Correction employee for more than 20 years. He counsels at-risk high school and college students. He has served as chairman of the Martin Luther King Jr. Annual Spiritual Celebration in Greenville for 20 years. He co-pioneered the 1998 effort to rename a major thoroughfare in Greenville in honor of Dr. King. Currently he serves as chairman of the board of the N.C. Chapter of the Southern Christian Leadership Conference.
Secretary Theodis Beck nominated McLawhorn for the award. "Mr. McLawhorn has tirelessly promoted the cause of tolerance and understanding between the races," said Secretary Beck. "He has led as well as participated in a diverse array of civic and community activities enhancing human and race relations in his community of Greenville."
The Agency for Public Telecommunications will televise the State Employees Martin Luther King Jr. celebration on OPEN/net cable television on Tuesday, January 16 from 8 to 10 p.m.
---
DPS | Adult Correction | Prisons | Community Corrections | Correction Enterprises | ACDP | News | Offender Info | Contact
© 1995-2012 North Carolina Department of Public Safety. All rights reserved.