| | | | | |
| --- | --- | --- | --- | --- |
| | | North Carolina Department of Public Safety | | |
North Carolina
DEPARTMENT OF CORRECTION
Michael F. Easley, Governor Theodis Beck, Secretary
For Immediate Release
April 25, 2001
Contact: Pamela Walker
Public Information Officer
(919) 716-3700
---
Tracy Little named Deputy Secretary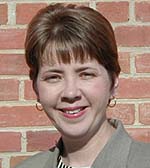 RALEIGH Ė Secretary Theodis Beck has named Tracy A. Little as deputy secretary for the Department, effective May 1.
"Ms. Little has done an outstanding job as director of public information and has proven herself a consummate professional," said Secretary Beck. "Her knowledge of the Department of Correction, her work ethic and extensive experience in state government will be invaluable in this role."
Little joined the Department in 1994 as public information officer for the N.C. Parole Commission. Four years later she became director of the Department's Office of Citizen Services. In January 2000, she was named public information director for the Department.
Littleís background also includes experience in the non-profit sector, having worked with the State Employees Association of North Carolina from 1990 to 1994. She began her career as a journalist with the New Bern Sun-Journal and also spent one year as a broadcast journalist working in radio.
"I am humbled and honored to be selected for this position," said Little. "In this Department we have the most dedicated and hardworking group of people with whom I have ever been associated. I look forward to this opportunity and the challenges that lie ahead."
A Goldsboro native, Little holds a bachelorís degree in journalism from the University of North Carolina at Chapel Hill. She is a May 2001 graduate from N.C. State University with a masterís degree in public administration. Little is married and she has one son. In her spare time, she is involved in her sonís athletic activities and enjoys pulling for the Tar Heels and the Carolina Panthers.
---
DPS | Adult Correction | Prisons | Community Corrections | Correction Enterprises | ACDP | News | Offender Info | Contact
© 1995-2012 North Carolina Department of Public Safety. All rights reserved.