| | | | | |
| --- | --- | --- | --- | --- |
| | | North Carolina Department of Public Safety | | |
Marion's work for local community tops $465,000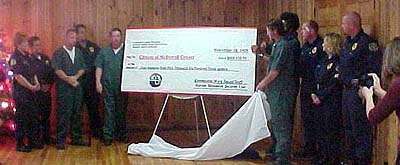 MARION - Community Work Crews from Marion Correctional Institution's minimum security unit performed 62,084 inmate man hours of work for local governments in McDowell County in 2001, with an estimated value of $465,530.
At Marion's annual inmate appreciation dinner in late November, inmates and officers presented McDowell County officials with a large check to symbolize the value of this year's work. If these jobs had not been performed by the inmate work crews, they would have been paid for by the taxpayers of McDowell County.
---
DPS | Adult Correction | Prisons | Community Corrections | Correction Enterprises | ACDP | News | Offender Info | Contact
© 1995-2012 North Carolina Department of Public Safety. All rights reserved.