| | | | | |
| --- | --- | --- | --- | --- |
| | | North Carolina Department of Public Safety | | |
North Carolina
DEPARTMENT OF CORRECTION
Michael F. Easley, Governor Theodis Beck, Secretary
FOR IMMEDIATE RELEASE
February 9, 2001
Contact: Mildred Spearman
(919) 716-3724
---
Doug Mitchell to lead Craggy Correctional Center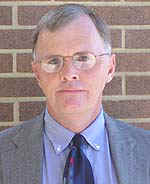 ASHEVILLE – Correction Secretary Theodis Beck has named Doug Mitchell as the new superintendent of Craggy Correctional Center, effective Dec. 1, 2001. Mitchell replaces William D. "Corky" Anderson, who retired Sept. 30, 2001.
"With more than 26 years of experience in correction, Mitchell knows what it takes to operate a correctional facility successfully," says Secretary Beck. "His experience and leadership make him the right choice to lead Craggy Correctional Center.
Mitchell began his career with the Department of Correction in 1975 as a correctional food service assistant at Henderson Correctional Center. After moving to Haywood Correctional Center as a correctional officer in 1977, he began to advance through the ranks. He served as a sergeant and later a food service supervisor before being named assistant superintendent in 1990. He was named acting superintendent in January of 1992, a position made permanent in July of that same year.
Mitchell welcomes the challenges his new post will bring. He already knows many of the Craggy staff members and is looking forward to working with them.
"Craggy Correctional Center is a facility that works as a team," says Mitchell. "They've bonded into one—where programming and custody now get along as one. I believe I'll blend in because I believe in teamwork."
A resident of Waynesville, Mitchell is married with two children. In his spare time, he enjoys fishing and golf.
# # #
Editor's Note: To obtain a digital photo of Mitchell, contact the Public Information Office at (919) 716-3700.
---
DPS | Adult Correction | Prisons | Community Corrections | Correction Enterprises | ACDP | News | Offender Info | Contact
© 1995-2012 North Carolina Department of Public Safety. All rights reserved.