BAYBORO, Dec. 1 - Inmates at Pamlico Correctional Institution have found a way to give something back to the local community during this holiday season.

The Menís Service Club, a group of inmates that generally provides services to the inmate population, chose to donate $300 to the Pamlico Senior Center for the Meals-on-Wheels program.

The Service Club, under the supervision of Stanley Stephenson, Programs Supervisor, earns money through recycling aluminum cans and taking and selling photos to fellow inmates during visitation.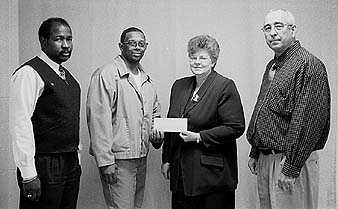 Robert Hines (l), Superintendent of Pamlico Correctional Institution, and Stanley Stephenson (r) the prisons programs supervisor look on as George Brown, president of the inmates' Men's Service Club, presents a $300 donation from the club to supplement the Meals-on-Wheels program. (Pamlico News photo)
The money generated is to be spent on improving the lives of the inmates such as purchasing Christmas gifts. However, this year they voted to spend a portion of their funds on the elderly in Pamlico County. "Even though these men are incarcerated, they feel the need to give back to the community," said Stephenson. "Many of them have elderly parents."
"This is great," said Linda Potter, Director of the Senior Center. "This donation will enable us to expand the Meals-on-Wheels program to other needy seniors who may not otherwise be covered."
Superintendent Robert Hines said he was impressed with the decision of the Menís Club and remarked, "Christmas brings out the best in everyone."