| | | | | |
| --- | --- | --- | --- | --- |
| | | North Carolina Department of Public Safety | | |
---
FOR IMMEDIATE RELEASE
April 16, 2001
Contact: Tracy Little
Director of Public Information
(919) 716-3700
CHAVIS TO LEAD SOUTH CENTRAL REGION PRISONS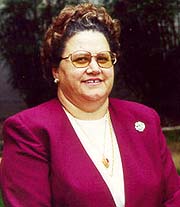 RALEIGH - Secretary Theodis Beck has named Patricia Chavis as the new South Central region director for the Division of Prisons, effective April 1. In her new position, Chavis oversees operations at 14 state prisons in a 12-county area between Charlotte and Wilmington.
"Pat Chavis is an excellent leader, motivator and administrator," said Secretary Beck. "She has served this department well over the years and I know she will do an outstanding job leading the prisons in our South Central region."
Chavis is a 27-year veteran of the Department of Correction. She started her career as a program supervisor at the old Richmond Advancement Center in Richmond County. She went on to work in the South Central Diagnostic Center at McCain and was the director of the Robeson Treatment Facility for Women. For 12 years, she served as a program director in South Central Area prison administration. In October 1990, she became the first Native American female to lead a state prison when she was named superintendent at Bladen Correctional Center. In 1994, Chavis supervised the opening of Lumberton Correctional Institution and served as its superintendent through March 2001.
Chavis is a lifelong resident of Robeson County. She received her bachelor's degree in sociology and master's degree in educational administration from the University of North Carolina at Pembroke. Chavis and her husband Kenneth have a daughter in college and a son in high school. She is an active member of Berea Baptist Church in Pembroke. In her spare time, she enjoys fishing and tending the flowers in her yard.
Chavis replaces Bob Lewis who was promoted to support services director for the Division of Prisons.
---
DPS | Adult Correction | Prisons | Community Corrections | Correction Enterprises | ACDP | News | Offender Info | Contact
© 1995-2012 North Carolina Department of Public Safety. All rights reserved.