| | | | | |
| --- | --- | --- | --- | --- |
| | | North Carolina Department of Public Safety | | |
North Carolina
DEPARTMENT OF CORRECTION
Michael F. Easley, Governor Theodis Beck, Secretary
For Immediate Release
July 13, 2001
Contact: Keith Acree
(919) 716-3700
---
Jennifer Miller Honored as Probation/Parole Officer of the Year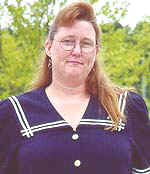 APEX – Probation/Parole Officer Jennifer Miller of Beaufort County was recognized today by Correction Secretary Theodis Beck and the North Carolina Department of Correction as one of four Probation/Parole and Community Supervision Officers of the Year.
Miller is assigned to the Community Corrections office in Washington, N.C. She was recognized in part for her outstanding service during a recent reassignment from Hyde to Beaufort counties. During the transition, she managed to effectively supervise offenders on both caseloads in the two counties.
Last November, she coordinated the arrest of a convicted embezzler who had absconded from probation on Ocracoke Island and headed for Bermuda aboard a boat. Working with sheriff's deputies on Ocracoke, the U.S. Coast Guard and other probation officers, Miller was able to arrange for the boat to stop at the Coast Guard Station at Fort Fisher where the probationer was arrested. He was later convicted on two counts of embezzlement totaling $200,000 and sentenced to 60-80 months in prison.
Miller also serves as the 2000-2001 vice president of the North Carolina Probation/Parole Association and volunteers on her days off as medical officer for the Carolina Township Volunteer Fire Department and an EMT for the Pactolus Rescue Squad.
Miller is a graduate of East Carolina University with a degree in criminal justice. She joined the Department of Correction in 1994.
# # #
---
DPS | Adult Correction | Prisons | Community Corrections | Correction Enterprises | ACDP | News | Offender Info | Contact
© 1995-2012 North Carolina Department of Public Safety. All rights reserved.