| | | | | |
| --- | --- | --- | --- | --- |
| | | North Carolina Department of Public Safety | | |
North Carolina
DEPARTMENT OF CORRECTION
Michael F. Easley, Governor Theodis Beck, Secretary
For Immediate Release
May 24, 2001
Contact: Keith Acree
Public Information Officer
(919) 716-3700
---
BRITTON HONORED AS CORRECTIONAL OFFICER OF THE YEAR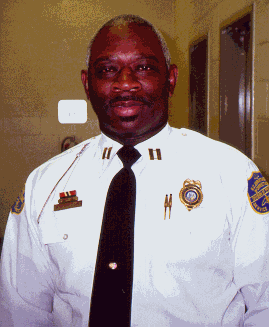 APEX - Capt. Rudolph Britton of Franklin Correctional Center in Bunn was recognized today by Correction Secretary Theodis Beck and the North Carolina Department of Correction as one of 12 Correctional Officers of the Year.
Britton was selected for his dedication, attention to detail and his desire to maximize the personal potential of each employee under his supervision.
Britton is the first shift commander at Franklin. He also serves as the facility intelligence officer and the training coordinator. He is responsible for supervising the road squads, arsenal staff, sign plant staff and scheduling use of the unit's firing range.
"Capt. Britton sets high expectations for his staff and the inmates they supervise," said Leon Edmonds, Assistant Superintendent at Franklin Correctional Center. "He contributes a strong positive attitude, a personal dedication, a sense of professionalism and a caring attitude every day."
Britton is a graduate of Halifax Community College and joined the Department of Correction in 1976. He lives in Raleigh and is an active member of Springfield Baptist Church, where he is an associate minister and sings in the men's chorus.
# # #
---
DPS | Adult Correction | Prisons | Community Corrections | Correction Enterprises | ACDP | News | Offender Info | Contact
© 1995-2012 North Carolina Department of Public Safety. All rights reserved.