| | | | | |
| --- | --- | --- | --- | --- |
| | | North Carolina Department of Public Safety | | |
North Carolina
DEPARTMENT OF CORRECTION
Michael F. Easley, Governor Theodis Beck, Secretary
For Immediate Release
October 5, 2001
Contact: Pamela Walker
(919) 716-3733
---
Mildred Spearman joins Public Information Office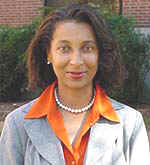 RALEIGH - Mildred Spearman is the newest addition to the Department of Correction Public Information Office.
"Ms. Spearmanís professional and academic background will be a valuable asset to the department," said Pamela Walker, director of public information. "Her journalism expertise will strengthen our efforts in informing the public and correction staff about department events."
Before joining the department, Spearman worked in both public relations and the broadcast media, including stints at CBS News and Court TV. Prior to that, she was an attorney with Pillsbury Winthrop LLC in Los Angeles.
A native of Fayetteville, Spearman holds bachelorís degrees in Spanish and journalism from the University of North Carolina at Chapel Hill. She also has a masterís degree in journalism from the University of Missouri at Columbia and a law degree from the University of North Carolina at Chapel Hill.
As a public information officer, Spearman will be responsible for responding to media inquiries, writing press releases and promoting the Departmentís activities and events. She also will be responsible for writing and editing departmental publications, including Correction News.
In her spare time, Spearman supports various civic and charitable causes. She serves on the executive staff of the Spencer Foundation for Spinal Cord Injury Research and Rehabilitation, a nonprofit organization dedicated to the prevention and cure of spinal cord injuries.
# # #
---
DPS | Adult Correction | Prisons | Community Corrections | Correction Enterprises | ACDP | News | Offender Info | Contact
© 1995-2012 North Carolina Department of Public Safety. All rights reserved.