| | | | | |
| --- | --- | --- | --- | --- |
| | | North Carolina Department of Public Safety | | |
North Carolina
DEPARTMENT OF CORRECTION
Michael F. Easley, Governor Theodis Beck, Secretary
For Immediate Release
October 17, 2001
Contact: Mildred Spearman
(919) 716-3734
---
Department of Correction dedicates new license tag and duplicating plants
North Carolina becomes first state to use female inmates to manufacture license tags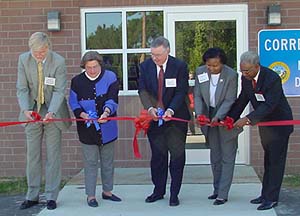 RALEIGH –The Department of Correction officially dedicated Correction Enterprises' new license tag and duplicating plants today. The ribbon-cutting ceremony took place at the North Carolina Correctional Institution for Women, home to a new 50,000-square-foot building that will house both plants.
Both plants previously used male inmate labor. The Duplicating Plant was housed in Central Prison, while the Tag Plant was adjacent to Central Prison. Now that plant operations have moved to NCCIW, North Carolina becomes the first state in the nation to use female inmates to manufacture license tags.
The female inmates at the Tag Plant will produce about two million tags per year for the North Carolina Department of Transportation, local municipalities and local fire departments. Meanwhile, females at the Duplicating Plant are expected to process about 8,000 orders per year.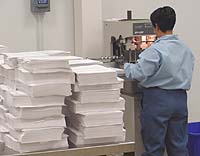 "The Department of Correction is committed to providing all inmates—male and female--with the opportunity to work and to better themselves," says Secretary Theodis Beck. "Working not only provides them with valuable job experience, it also helps to save state and community resources by providing quality goods and services to government agencies at competitive market prices."
Both the Tag Plant and the Duplicating Plant are operated by Correction Enterprises, a division of the Department of Correction. Correction Enterprises uses inmate labor to produce a variety of products, including office furniture, road signs, paint, clothing, signs and food products. Through Correction Enterprises, inmates also provide services such as laundry, printing and meat processing. Correction Enterprises receives no support from state budget allocations and, like a business, is totally supported through the goods and services its produces and sells.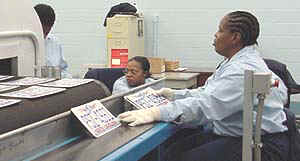 "At Correction Enterprises, our main goal is to provide meaningful work experience for inmates as they produce quality goods and services that save the taxpayers money," says Jim Godwin, director of Correction Enterprises. "The state-of-the-art equipment in this new facility will help the tag and duplicating plants operate with maximum efficiency and productivity as we move toward that goal."
Editor's Note: For more information about the goods and services offered by Correction Enterprises, please visit the Department of Correction's Web site at www.doc.state.nc.us.
# # #
---
DPS | Adult Correction | Prisons | Community Corrections | Correction Enterprises | ACDP | News | Offender Info | Contact
© 1995-2012 North Carolina Department of Public Safety. All rights reserved.