| | | | | |
| --- | --- | --- | --- | --- |
| | | North Carolina Department of Public Safety | | |
North Carolina
DEPARTMENT OF CORRECTION
Michael F. Easley, Governor Theodis Beck, Secretary
For Immediate Release
June 1, 2001
Contact: Keith Acree
Public Information Officer
(919) 716-3700
---
Pam Walker named Public Information Director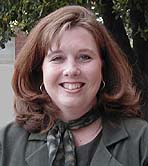 RALEIGH- Secretary Theodis Beck has named Pamela Walker as the Department's director of public information, effective June 1.
"I have great confidence in Ms. Walker and her abilities," said Secretary Beck. "Her background and expertise in working with the news media is an asset and I know that she will always work for the best interest of this department and the administration."
Before joining the department in April 2000, Walker had 10 years experience in communications, primarily in the broadcast media. She was a news producer for WNCN-NBC 17 in Raleigh for two years. Prior to that, Walker was a news producer at a television station in Miami, Florida.
Walker's background also includes experience as a television news writer and reporter. She began her career as a reporter for WJKA-TV in Wilmington. A Charlotte native, Walker holds a bachelor's degree in speech communication from the University of North Carolina at Wilmington.
As public information director, Walker's duties will include coordinating the Department's public relations program. She will also be responsible for responding to media inquiries, issuing press releases and overseeing agency publications. Walker replaces Tracy Little who was promoted to deputy secretary for the Department May 1.
"It is quite an honor to replace the person who brought me into the Correction family," said Walker. "I am very excited about this opportunity and hope to continue to build on the integrity of the Department and its employees."
In her spare time, Walker enjoys working with her husband, Jamie, renovating their Angier home, which was built in 1938. She is also an avid sports fan, particularly Tar Heel basketball and the NFL.
# # #
---
DPS | Adult Correction | Prisons | Community Corrections | Correction Enterprises | ACDP | News | Offender Info | Contact
© 1995-2012 North Carolina Department of Public Safety. All rights reserved.