| | | | | |
| --- | --- | --- | --- | --- |
| | | North Carolina Department of Public Safety | | |
North Carolina
DEPARTMENT OF CORRECTION
Michael F. Easley, Governor Theodis Beck, Secretary
For Immediate Release
August 5, 2001
Contact: Keith Acree
(919) 716-3700
---
Wallace Shileds named superintendent at Davidson Correctional Center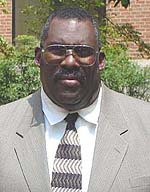 LEXINGTON - Secretary Theodis Beck has named Wallace Shields Jr. superintendent of Davidson Correctional Center effective August 1.
"Wallace Shields is a very competent prison administrator," said Secretary Beck. "His years of experience running prison units in the Piedmont region have prepared him well for this assignment."
Since September 1999, Shields has served as an assistant chief disciplinary hearing officer for the Division of Prisons. He joined the Department of Correction in 1977 as a correctional officer at Davie Correctional Center and was promoted to sergeant in 1980. He became assistant superintendent at Yadkin Correctional Center in 1992 and was promoted to superintendent at Sandy Ridge Correctional Center in 1996. Shields supervised the closing of Sandy Ridge in 1998 after the state legislature decided to close the prison in that yearís budget. After Sandy Ridge closed, Shields returned to Yadkin to serve again as assistant superintendent.
"Iím looking forward to the challenge of getting back to a superintendentís position," said Shields.
Shields is a native of Winston-Salem. He graduated from Elizabeth City State University in 1976 with a bachelorís degree in sociology. He and his wife Patricia have two adult sons and a 3-year-old grandson.
# # #
---
DPS | Adult Correction | Prisons | Community Corrections | Correction Enterprises | ACDP | News | Offender Info | Contact
© 1995-2012 North Carolina Department of Public Safety. All rights reserved.