| | | | | |
| --- | --- | --- | --- | --- |
| | | North Carolina Department of Public Safety | | |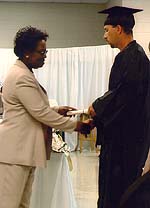 Inmates earn GED certificates at Warren CI
MANSON - A graduation ceremony was held June 7 at Warren Correctional Institution for 60 inmates completing the academic requirements for their GED diploma. Certificates were awarded to inmates completing class requirements in Vocational/ Educational programs in the area of Combination ACAD/VOC, Information Systems and Heating, Ventilation and Air Conditioning.
Education services director Anne Tew spoke to the graduates and they were presented certificates by Ruby Brandon, assistant superintendent for programs, and instructors M. Mays, G. Alston and M. Fitzmaurice from Vance Granville Community College.
---
DPS | Adult Correction | Prisons | Community Corrections | Correction Enterprises | ACDP | News | Offender Info | Contact
© 1995-2012 North Carolina Department of Public Safety. All rights reserved.