| | | | | |
| --- | --- | --- | --- | --- |
| | | North Carolina Department of Public Safety | | |
Female inmates contribute to Red Cross relief effort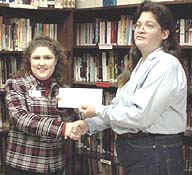 RALEIGH, Jan 9 - A group of inmates at North Carolina Correctional Institution for Women has made a contribution to the American Red Cross Liberty Fund, to assist in relief efforts from the tragedies of September 11.
A group of about 15 inmates contributed a total of $275.05 from their trust fund accounts.
"When you consider that this is money earned by inmates who work for only 40 cents or 70 cents a day, it makes this a much more significant and heartfelt gesture," said Mike Ledford, the prison's assistant superintendent.
Inmate Vikki Fox presented Red Cross representatives with the check on Jan. 8. She was the largest contributor to the fund.
# # #
---
DPS | Adult Correction | Prisons | Community Corrections | Correction Enterprises | ACDP | News | Offender Info | Contact
© 1995-2012 North Carolina Department of Public Safety. All rights reserved.