Angela Powell named Officer of the Year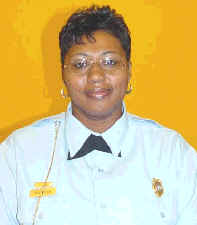 APEX – Officer Angela Powell from Caledonia Correctional Institution was recognized today by Secretary Theodis Beck and the North Carolina Department of Correction as one of 12 Correctional Officers of the Year.
Powell was chosen because of the many responsibilities she has taken on at Caledonia. She is a member of the Eastern Region Drug Interdiction Team and has participated in several interdictions to help stop the flow of drugs into our prisons. Her supervisor says this is just one of the many ways she has shown that she will do "whatever is needed" for the good of the department.
She is currently assigned to the mailroom where she scans incoming and outgoing mail trying to avoid the distribution of contraband. She also sorts and distributes the mail. Prior to assuming her current assignment, Powell supervised close custody field squads who worked on the farm, from both horseback and the ground. She is extremely competent with a shotgun, revolver and rifle. Her supervisors describe her as an exceptional officer who always exemplifies professionalism.
Powell joined the Division of Prisons in 1996. She is a graduate of Hertford County High School and also attended Roanoke-Chowan Community College.