David Schram named Officer of the Year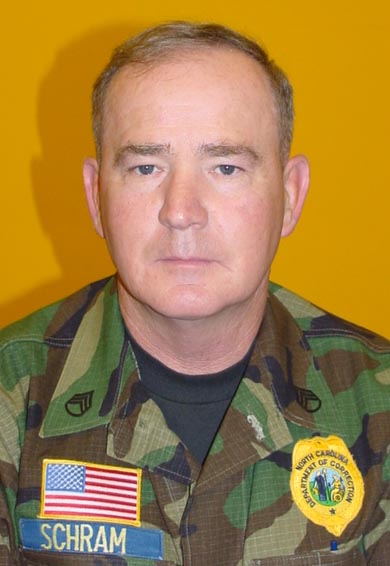 APEX – Sgt. David Schram from IMPACT East in Hoffman was recognized today by Secretary Theodis Beck and the North Carolina Department of Correction as one of 12 Correctional Officers of the Year.
Schram is a drill instructor at IMPACT East and an eight-year veteran of the Department of Correction. He was recognized for his outstanding productivity and contribution to the IMPACT correctional program.
Schram arrives early every morning to conduct security patrols before his scheduled start time. During a recent snow storm, he stayed overnight at the unit to make sure he was able to report the next morning. He also recently donated more than 140 hours of annual leave to a fellow employee on medical leave.
"Sgt. Schram always puts the mission of IMPACT first, the people under his control second and himself last," said Capt. John McGrew.
Schram is a graduate of Vicenza American High School in Vicenza, Italy. He served 24 years in the U.S. Army and retired as a first sergeant. He lives in Fayetteville with his wife and daughter.