Debra Walser named Officer of the Year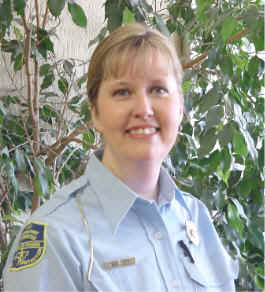 APEX – Officer Debra Walser from Southern Correctional Institution in Troy was recognized today by Secretary Theodis Beck and the North Carolina Department of Correction as one of twelve Correctional Officers of the Year.
As the correctional officer in charge of the records section at Southern Correctional Institution, Walser is responsible for maintaining the records of about 500 close custody inmates and for coordinating inmate paroles and releases. She fields countless phone calls from people requesting inmate information.
Walser also serves as the victim information coordinator at Southern, responding to questions and concerns and making appropriate referrals. In April, Debra organized Montgomery County's first community observance of National Crime Victims' Rights Week, held on the courthouse grounds in Troy. She also works with the department's Office of Victim Services to help train victim information coordinators at other prison facilities.
"She performs her duties in a thorough and courteous manner, never receiving a complaint from outside the facility," said assistant superintendent Timothy Kimble.
Walser also serves on the boards of directors for the Montgomery County Crisis Council and the Daycare Academy of First Wesleyan Church in Troy.