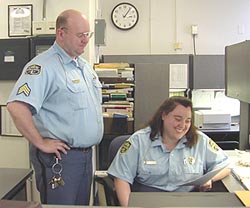 RALEIGH Ė While they donít work inside the confines of one of the stateís 76 prisons, their work is vital to the security of the North Carolina prison system. Sergeant Christopher Aurand and Correctional Officer Joanne Duda are two of the officers who staff the security desk at the Division of Prisons headquarters in Raleigh. They serve as the point of contact for the stateís law enforcement agencies, they track information on escapes, captures and warrants, provide building security and in their spare time, they even do some detective work on "cold case" escape files.

Aurand is a six-year veteran who supervises five employees assigned to operate the Division of Criminal Information (DCI) terminal, the departmentís link to the stateís criminal information database. Aurand and his staff are certified by the State Bureau of Investigation and are the only Division of Prisons employees authorized to enter warrants, updates and validations into the DCI system.

Aurand says the most rewarding part of his career is "acting as a liaison between the Division of Prisons and outside law enforcement agencies."

Correctional Officer Joanne Duda is a five-year veteran working under Aurandís supervision. She came to her current job from Wake Correctional Center where she was instrumental in making the gate security post a non-gender specific position and was the first female to work solo in that position.

Her interest in the departmentís "cold case" files led to her to pursue some online detective work. She has used Internet searches and other techniques to track down and return nine escapees to custody. She has confirmed the deaths of at least six escapees and located several escapees incarcerated other states, including two on death row in Florida.

Dudaís techniques involve researching driverís license records, social security numbers and contacting relatives using addresses obtained from old records. One recent case ended with the capture of a 1972 escapee who was working as a taxi driver in California. The escapee was living a rather public life, which provided the paper trail needed to track him.

Gov. Michael Easley has proclaimed May 5-11 as Correctional Officersí Week to honor the more than 10,000 correctional officers who work daily to help protect the safety of North Carolinaís citizens.
---