| | | | | |
| --- | --- | --- | --- | --- |
| | | North Carolina Department of Public Safety | | |
Michael F. Easley
Governor

Theodis Beck
Secretary

North Carolina Department of Correction

---

For Release: IMMEDIATE
Contact: Keith Acree
Date: May 6, 2002
Phone: (919) 716-3727

---

Officer helps ensure safety inside prison hopsital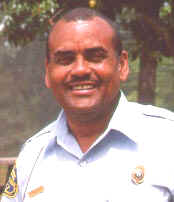 McCAIN – Safety is always foremost in the mind of Officer James Kornegay when he is on the job at McCain Correctional Hospital. It's a busy place, but Kornegay says essentially it's all about "keeping the inmates behind the fence and protecting the safety of the staff and inmates."
In its early years, McCain Hospital was a state tuberculosis sanatorium. Today it is home to about 350 prisoners, including most of the prison system's geriatric male population and inmates receiving treatment for many types of disease and illness. The hospital's doctors and nurses handle the medical care, while a staff of correctional officers oversees custody and security.
"If there's a medical emergency, I need to make sure the area is secure before the medical staff comes in," said Kornegay. "We're not trying to delay the medical process, we're just trying to ensure everyone's safety."
Kornegay works two-week rotations between duty posts in the hospital's wards, on the yard and in the modular dormitory for working inmates. The hospital setting puts officers in close contact with inmates and the medical staff who treat them. It's a unique type of work found in only a few places in the state prison system.
"It gets hectic sometimes, and you've got to use your common sense," said Kornegay. "After a while you know what certain inmates are going to do."
He tries to deal with all inmates firmly, but fairly. "If you treat a person with respect, they'll return the favor," said Kornegay. "I give respect and I expect it in return."
Governor Michael Easley has proclaimed May 5-11 Correctional Officers' Week in recognition of more than 10,000 correctional officers who help protect the public safety by supervising inmates in North Carolina's 76 state prisons.
---

Public Information Office
4202 Mail Service Center
Raleigh NC 27699-4202
(919) 716-3700 Fax: (919) 716-3795
Pamela Walker
Director
DPS | Adult Correction | Prisons | Community Corrections | Correction Enterprises | ACDP | News | Offender Info | Contact
© 1995-2012 North Carolina Department of Public Safety. All rights reserved.