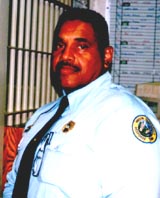 MARION - Correctional Officer Elmer Macopson takes his job at Marion Correctional Institution very seriously. He has to because he works in segregation housing where some of the state's most difficult to manage inmates are housed.

Macopson is one of the more than 10,000 correctional officers who are being saluted as part of Correctional Officers' Week. Governor Michael Easley has proclaimed May 5-11 Correctional Officers' Week to recognize those who help protect public safety by supervising inmates in North Carolina's 76 state prisons and two IMPACT boot camps.

"It's a challenge and every day is different and every inmate is different," said Macopson. "But I think every job is what you make of it."

In addition to supervising inmates assigned to segregation, Macopson serves on the Prison Emergency Response Team (PERT) as an assistant platoon leader. Members of PERT train once a month to respond to emergency situations at prison facilities such as hostage situations and escapes. Occasionally, PERT will also assist local law enforcement with search and rescue of missing persons. Macopson says that although there is no extra money in being a member of PERT, he encourages other officers to consider the team experience because it has been very rewarding for him.

"I love the training that we get through PERT," said Macopson. "It is one way we have as officers to constantly improve ourselves. We are considered an elite section of the department."

The Forest City native first joined the Department of Correction in 1970 as a correctional officer. Eight years later he went to work at the McDowell County Law Enforcement Center as a sheriff's deputy and eventually became a lieutenant. In 1994, he returned to the department as a correctional officer at Marion.

Editors: A digital photo of Macopson is available by calling the Public Information Office at 919-716-3700.
---