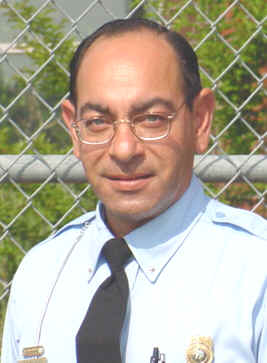 VANCEBORO–Last year, more than 6,000 inmates passed through Craven Correctional Institution on their way to correctional facilities across the state. As a correctional officer in the intake section, Nelson Santiago Sr. is one of the first points of contact for many inmates.

"We go through their property with a fine tooth comb and let them know what they can and cannot have," said Santiago. "If it passes through intake, it can get into the unit. This is the first stop right here."

Craven Correctional Institution is the state's largest prison processing center. Newly convicted prisoners from North Carolina jails come to Craven for testing, evaluation and interviews to determine in which correctional facility an offender should be placed. The process includes an inventory of personal property, fingerprinting, photographs, personal searches, a change from street clothes to prison clothing and an explanation of prison rules and regulations. Intake officers like Santiago oversee that process and make sure the inmates know how things work in North Carolina prisons.

Santiago's diligence has prevented attempts to bring drugs, weapons and other contraband into the prison. A correctional officer since 1996, he recognizes that some danger is inherent in his job. "We never know what condition an inmate is in when he comes from the jails," he said, "so we have to be careful on that part."

No stranger to danger, Santiago served in the United States Marine Corps for 22 years, retiring with the rank of gunnery sergeant. During his time in the Marines, he received many honors and awards, including the National Defense Service Medal, the Good Conduct Medal, Navy Unit Commendation and the Southwest Asia Service Award.

Governor Michael Easley has proclaimed May 5-11 Correctional Officers' Week in recognition of more than 10,000 correctional officers who help protect the public safety by supervising inmates in North Carolina's 76 state prisons.
---