HIGH POINT Ė Lt. Baron Terrell looks through a folder containing news clippings about searches the Fugitive Squad has handled over the years. He looks back on the 1984 search for escaped inmates from a Virginia prison that were eventually captured by the FBI. But the cases he remembers most donít involve inmates.

"The first find I ever made with a dog was a four-year old boy," says Terrell. "When you walk out of the woods and hand that boy to his mother, it doesnít get any better than that." He holds up another clipping that shows a smiling two-year old boy reunited with his father. "This is the stuff that makes your job worthwhile," he says.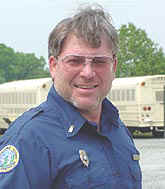 As fugitive lieutenant, Terrell supervises six officers and 11 bloodhounds charged with finding escaped inmates and returning them to prison. The squad also works with local law enforcement agencies to locate missing people, usually children, Alzheimerís patients and the mentally ill. Together, the officers and the dogs capture an average of four escaped inmates each month, in addition to helping local communities when needed.
"The best part is the adrenaline rush you get from succeeding with your dog," says Terrell. "Thatís why I donít want to give it up."
Terrell joined the Department of Correction as a correctional officer at Caswell Correctional Center in 1982. He later started driving a transfer bus and handling the bloodhounds. He worked his way up the ranks to his current position as both fugitive lieutenant and transfer terminal manager of the Sandy Ridge Transfer Terminal. As manager of the terminal, Terrell supervises the transport of inmates to and from prisons all across the state. Last year, more than 42,000 inmates passed through the terminal.
When Terrell and his men are not tracking escaped inmates, they train the bloodhounds and follow leads on inmates who have been missing for years. Terrell notes that there have been fewer escapes in recent years due to improvements in prison operations, but that doesnít make the job any less dangerous.
"You have to be really careful of your surroundings," he says. "You never know what youíre going to find."
Governor Michael Easley has proclaimed May 5-11 Correctional Officersí Week in recognition of more than 10,000 correctional officers who help protect the public safety by supervising inmates in North Carolinaís 76 state prisons.
# # #
---