| | | | | |
| --- | --- | --- | --- | --- |
| | | North Carolina Department of Public Safety | | |
Michael F. Easley
Governor

Theodis Beck
Secretary

North Carolina Department of Correction

---

For Release: IMMEDIATE
Contact: Keith Acree
Date: May 6, 2002
Phone: (919) 716-3727

---

Officer provides information and comfort for victims of crime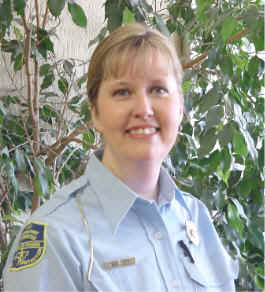 TROY- As a records officer at Southern Correctional Institution Debra Walser is responsible for maintaining the files of more than 500 close custody inmates and for coordinating inmate paroles and releases. But her greatest reward comes from the work she does assisting the victims of crime.
As the victim information coordinator at Southern, Walser is the point of contact for victims who call the prison to ask about offenders who are serving time there. She is able to answer questions, provide information and provide referrals for victimís needs that she canít handle on her own.
"Itís hard to hold a position that requires you to walk both sides of the path, between those who have committed crimes and the victims who have had those crimes committed against them," she said. "Victims can tell you about very personal thoughts and concerns, some they may have never told another person. I consider it an honor to be entrusted with these matters."
Every one of the stateís 76 prisons has at least one person serving as a victim information coordinator, but Walser is one of only a few correctional officers doing the job. At most prisons, a non-uniformed member of the staff or an administrator fills the role. Walser says balancing the dual roles is made easier with the support of her supervisors and the departmentís victim services staff.
"At the end of the day, when I leave the prison, I leave knowing that I may have played a small role in healing a victimís heart, be that for a moment or for a lifetime," she said.
Governor Michael Easley has proclaimed May 5-11 Correctional Officersí Week in recognition of more than 10,000 correctional officers who help protect the public safety by supervising inmates in North Carolinaís state prisons.
---

Public Information Office
4202 Mail Service Center
Raleigh NC 27699-4202
(919) 716-3700 Fax: (919) 716-3795
Pamela Walker
Director
DPS | Adult Correction | Prisons | Community Corrections | Correction Enterprises | ACDP | News | Offender Info | Contact
© 1995-2012 North Carolina Department of Public Safety. All rights reserved.