TILLERY Ė Officer Chris Warren rides horses for a living. As a lead correctional officer at Caledonia Correctional Institution, Warren supervises inmate crews as they work on the 7500-acre prison farm.

"I just love this out here in the field, riding the horses," he said. "I look forward to coming out here doing this every day."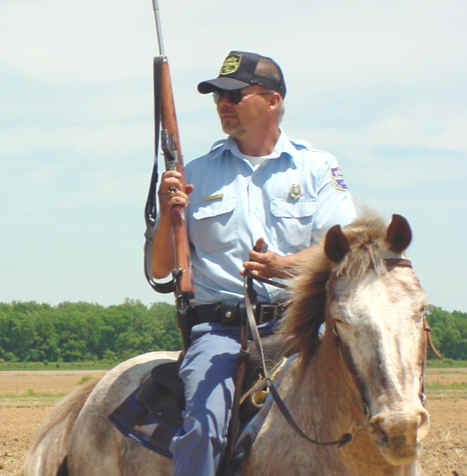 The state of North Carolina purchased the Caledonia farm land in 1899 in order to provide work for inmates. Today, inmate crews of up to 25 men plant and harvest many crops, including sweet potatoes, squash and turnips. The vegetables are canned and sent to agencies across the state. Caledonia inmates also grow the day lilies that the Department of Transportation plants along North Carolina highways.
Warren began his career as a correctional officer at Caledonia in 1982. Since he began working in the fields eight years ago, no inmate has tried to escape from one of his crews. One foreman supervises the inmate labor, while a minimum of two armed guards patrol on horseback. Warren tries to keep the men in a group and constantly counts the inmates to make sure the area is secure.
"If you do it correctly, itís not dangerous," he says. "The important thing is keeping your distance and paying attention. When youíre out here, you have to use common sense and do what you feel is necessary."
As the inmates take a break, Warren calms his horse, Galaxy, affectionately called "Big G" by the inmates and staff. "If you like the outdoors, this is great," he says. "Itís the best job Iíve had."
Governor Michael Easley has proclaimed May 5-11 Correctional Officersí Week in recognition of more than 10,000 correctional officers who help protect the public safety by supervising inmates in North Carolinaís 76 state prisons.
# # #
---