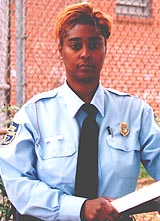 CHARLOTTE - Correctional Officer Ella Gaither has to be good with numbers in her role as acting officer in charge at Charlotte Correctional Center. She was elevated to that role when two sergeants were recently called to active military duty.

Charlotte Correctional Center, a minimum custody prison, is one of the busiest in the state when it comes to inmates working in the community. Approximately 90 inmates are assigned to work at businesses in the Charlotte area and ten inmates are assigned to a community work crew that is called upon to do maintenance, painting, clean up and many other tasks for government agencies. In addition, 28 inmates are assigned to road squads to pick up litter along roadways.

When Gaither isn't counting inmates coming and going, she's assisting medical staff with medication calls, assisting inmates with filling out forms, checking inventory in the clothes house, doing accounting and supervising visitation.

"It's a challenge and it's something different to deal with every day," said Gaither. "Attention to detail is everything, but I hope with all that I learn on the job, I can work my way up to becoming superintendent one day."

Gaither started her career with the department in 1996 as an intern. She then became a security officer at Right Turn, a substance abuse treatment center, before moving in to her current position. Prior to joining the department she was a bus driver for Greyhound Bus Lines.

The Charlotte native says a lot has changed in corrections. "It used to be that we were just prison guards-- supervising inmates and maintaining safety and security. Now, we do all that and we're involved in the rehabilitation process hoping to give inmates the tools they need to survive in the community so they don't come back to prison."

Governor Michael Easley has proclaimed May 5-11 Correctional Officers' Week in recognition of more than 10,000 correctional officers who help protect the public safety by supervising inmates in North Carolina's 76 state prisons.
---