Officer aids balance between control and treatment for offenders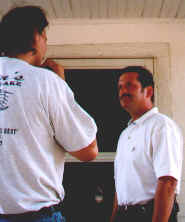 SHELBY- Making daily contacts with people on parole or probation, searching for absconders and drug testing offenders are part of the daily routine for Surveillance Officer Ralph McKinney.

McKinney is one of approximately 2,000 officers who work in the Division of Community Corrections supervising more than 116,000 offenders on probation or parole.

Governor Michael F. Easley has proclaimed the week of July 14-20 as Probation, Parole & Community Supervision Officers' Week. The work the officers do for public safety in communities across the state will be celebrated.

McKinney feels that the job of a probation/parole officer plays an important role in communities. "We work towards helping balance control of offenders, treatment and rehabilitation," said McKinney.

The Shelby native has been with the Division of Community Corrections for six years. Prior to that he was an Alcohol Beverage Control officer and a drug investigator for the Cleveland County Sheriff's Office.

As a surveillance officer, McKinney is teamed up with an intensive officer and they supervise a caseload of offenders on probation or parole under a sanction called intensive supervision. This type supervision is an intermediate sanction reserved for higher risk offenders. The intensive team's job is to help ensure that the offenders follow the orders and sentencing guidelines set up by the court through enhanced interaction.

The surveillance officer spends a lot of time on the road because their primary role is to have face to face contact with the offenders to make sure they are following the rules and curfews. The intensive officer conducts office visits with the offenders and makes sure they are following all court orders such as paying restitution and getting treatment. As a team, they make contact with each offender a minimum of five times a week and sometimes much more than that.

McKinney also keeps busy as an instructor of use of firearms, less than lethal defensive tactics, pepper spray and many other types of training for Correction employees who work in prisons or in the community.

"It's important to me to help make sure our younger officers get good training that will help keep them safe," said McKinney.

Public safety and staff safety are community corrections officers' first and foremost concerns. In addition to that, the officers work diligently, with limited resources, to hold offenders accountable, give offenders the tools they need to become productive citizens and provide victims services.