Permission - Don't leave home without it
DOBSON--For the offenders assigned to house arrest in Surry County, permission to go outside their homes is like having a well-known credit card. They should not leave home without it, and probation and parole officer Tracie Fulcher helps make sure that they don't.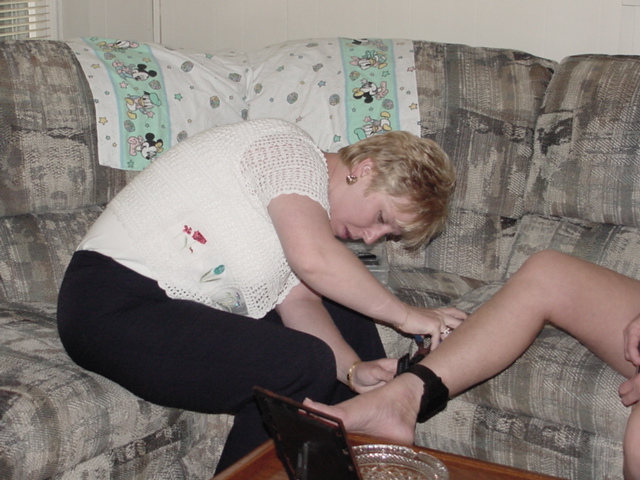 "The system tries to put people in prison who need to be here and I think they use their judgment about who should be in the community," said Fulcher. "Electronic house arrest is a very effective community punishment."
Offenders assigned to house arrest wear an electronic ankle device that tracks their every movement. If the offender goes outside his or her home, the device alerts staff members at the central office in Raleigh who notify Fulcher of a possible violation. Fulcher then visits the offender's home to make sure he or she has not violated the terms of his or her probation.
Fulcher, who also handles sex offenders, visits the offenders on her caseload at least two to three times a month in their homes or at their places of employment. She follows up to make sure they are complying with conditions of probation, such as counseling, curfews, drug tests, employment, study or community service.
"We just try to make sure the offenders do what they're supposed to do," said Fulcher. "It keeps the jail population down and saves tax dollars. I get self-satisfaction out of doing the best job that I can."
A1992 graduate of the University of North Carolina at Charlotte, Fulcher wanted to be a probation and parole officer after an internship gave her the opportunity to shadow an officer for one semester. She started as an officer in Stokes County and hasn't looked back.
"Sometimes an offender will call me after his probation has ended and say 'thanks' or 'I appreciate what you did,' or 'I wouldn't have made it if you hadn't stuck with me'," said Fulcher. "That lets me know that sometimes I do make a difference."
Governor Michael F. Easley has proclaimed July 14-20, 2002 Probation, Parole and Community Supervision Officers' Week in recognition of more than 2,000 community supervision officers who help protect public safety by supervising approximately 116,000 offenders on probation, parole or post-release supervision in North Carolina communities.