Anson inmates help local family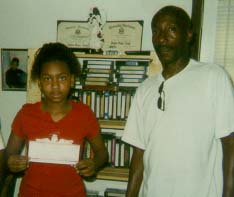 POLKTON, October 23, 2002 - In response to a mother's plea for help in the local newspaper, the Men's Club of Anson Correctional Center made a contribution of $250 to the family of Ricky and Thomasina Rivers of Wadesboro, N.C. The contribution was given on behalf of their daughter, Daija Rivers.
Twelve-year-old Daija had surgery to remove a brain tumor May 27, 2002. The operation was as success. However, medical miracles come at a high price: in Daija's case, about $15,000.
According to her aunt, Lorraine Ellerbe, she is doing fine and recuperating at home. "Everyone is pitching in to take care of her." Doctors are hopeful for a complete recovery. To show their appreciation, the family sent the Men's Club a personalized 'thank you' card.
The Men's Club participation in helping Daija was an opportunity to give back to the people of Anson County," said member Mario Thomas. " We look forward to future opportunities to promote the betterment of the Anson County community. Our goal is to raise the opinion of the Anson Correctional Center Men's Club and the N.C. Department of Correction."
Currently the Men's Club is collecting bicycles and toys for their annual Christmas Toy Giveaway. These gifts will be distributed to needy children by the corrections staff at Anson Correctional Center and the Anson County Department of Social Services.