Debra Debruhl named DCC manager for 30th Judicial District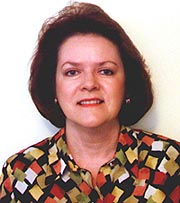 MURPHY--Secretary Theodis Beck has named Debra Debruhl judicial district manager for District 30 of the Division of Community Corrections, effective June 1. Debruhl will supervise probation and parole officers in seven western counties: Haywood, Jackson, Macon, Swain, Graham, Clay and Cherokee counties.
"Debra Debruhl understands the meaning of community corrections," said Beck. "She has experience, leadership skills, but more important, she has a keen understanding of the people and resources of western North Carolina."
Debruhl began her career with the Department in 1978 as a probation and parole officer in Graham County. In 1990, she became Graham County's first intensive case officer. After leaving the Department for a few years, she returned as a probation officer in 1996, working her way back to intensive officer, then chief probation and parole officer and now judicial district manager. She is glad she came back.
"A job in corrections carries a lot of different responsibilities and requires a number of varied skills," said Debruhl. "I enjoy working with court personnel and other officers and feeling like I've done something to help my community and to help others. I stress to my officers that what they are doing is valuable work for the state of North Carolina."
Debruhl has completed the North Carolina Public Manager program and served as member of the Division of Community Corrections' Revocation Task Force. She is a member of the advisory boards for the Criminal Justice Partnership Program of Graham, Cherokee and Clay counties and the board of directors for Industrial Opportunities, Inc.
A graduate of Mars Hill College, Debruhl lives with her husband Bob, a retired state trooper, in Tallulah. They have one son, Robby.