Harden named superintendent at Anson Correctional Center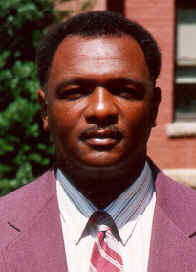 POLKTON – Correction Secretary Theodis Beck has named Robert Harden superintendent at Anson Correctional Center effective July 1. A 20-year Department of Correction veteran, Harden has served as acting superintendent at Anson since March.
"Robert Harden is a career prison employee and an experienced administrator," said Secretary Beck. "I am confident he will be an effective leader and will do good business in the Anson County community."
Harden started his correction career in 1981 as a correctional officer at Morrison Youth Institution in Hoffman. In 1991, he was promoted to sergeant at Richmond Correctional Center in Rockingham and served there until it closed in 1995. He transferred to Anson Correctional Center, where he was named assistant superintendent in 1996.
Harden is a graduate of Richmond Senior High School in Rockingham and holds an associate's degree in Business Administration from Richmond Community College. He has also received his Advanced Criminal Justice Certificate. Harden lives in Hamlet with his wife Mildred and their 12-year-old son Jeremy. In his spare time, he coaches little league football and baseball and enjoys fishing and gardening.
Harden replaces superintendent Bobby Burleson who retired March 1.
# # #