| | | | | |
| --- | --- | --- | --- | --- |
| | | North Carolina Department of Public Safety | | |
North Carolina
DEPARTMENT OF CORRECTION
Michael F. Easley, Governor Theodis Beck, Secretary
FOR IMMEDIATE RELEASE
February 7, 2002
Contact: Pamela Walker
(919) 716-3733
---
New Internal Audit Supervisor Named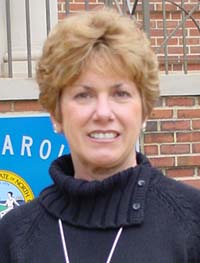 LENOIR- Secretary Theodis Beck has named Harriett Edmisten internal audit supervisor for the Western Region.
"Harriett Edmisten brings years of experience with the Department to the position," said Secretary Theodis Beck. "Her knowledge about corrections' operations and administrative expertise make her the ideal person for the job."
Edmisten has been with the Department for 13 years working as an auditor and administrative services coordinator in the Division of Prisons. She also has clerical experience in the private sector.
"I am looking forward to the challenge and working with the audit team in the Western Region," said Edmisten.
In her new position, Edmisten will supervise two auditors who conduct audits for all sections and offices in the Department. The auditors make evaluations to ensure efficiency and cost-effectiveness.
Edmisten attended high school in Blacksburg, S.C. She took business and accounting courses at Appalachian State University and Wilkes Community College and received an associate's degree in business at Caldwell Community College & Technical Institute.
She lives in Hickory with her husband Jerry and has three daughters and four grandsons. When she's not working, Edmisten enjoys gardening and camping at the beach.
Editors: A digital photo of Edmisten is available by calling the Public Information Office at 919-716-3700.
- pkw -
---
DPS | Adult Correction | Prisons | Community Corrections | Correction Enterprises | ACDP | News | Offender Info | Contact
© 1995-2012 North Carolina Department of Public Safety. All rights reserved.