| | | | | |
| --- | --- | --- | --- | --- |
| | | North Carolina Department of Public Safety | | |
North Carolina
DEPARTMENT OF CORRECTION
Michael F. Easley, Governor Theodis Beck, Secretary
FOR IMMEDIATE RELEASE
January 4, 2002
Contact: Keith Acree
(919) 716-3727
---
Inmates Help Clean Up After Snow Storm
Inmates from several prisons are helping communities clean up after this week's snowfall. Here are some of the areas where inmates are working: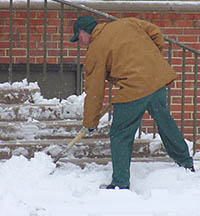 Greene County – Inmates from Greene Correctional Center worked Friday shoveling snow and ice from sidewalks in Snow Hill, at the request of town officials.
Lee County – Sanford Correctional Center is providing three inmates around the clock at the Lee County DOT yard where they are helping with maintenance on snow plows.
McDowell County – Inmates from Marion Correctional Institution worked Thursday morning shoveling snow at the Division of Motor Vehicles, the N.C. Highway Patrol station, DOT district maintenance office and DOT resident engineer's office in Marion.
Montgomery County – Inmates from Southern Correctional Institution worked Friday removing snow at several Montgomery County schools and plan to continue working at more schools Saturday.
# # #
---
DPS | Adult Correction | Prisons | Community Corrections | Correction Enterprises | ACDP | News | Offender Info | Contact
© 1995-2012 North Carolina Department of Public Safety. All rights reserved.