| | | | | |
| --- | --- | --- | --- | --- |
| | | North Carolina Department of Public Safety | | |
North Carolina
DEPARTMENT OF CORRECTION
Michael F. Easley, Governor Theodis Beck, Secretary
FOR IMMEDIATE RELEASE
February 8, 2002
Contact: Mildred Spearman
(919) 716-3724
---
Matthew Jones Takes Charge at Haywood Correctional Center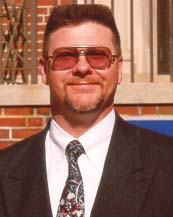 WAYNESVILLE - Secretary Theodis Beck has named Matthew Jones superintendent at Haywood Correctional Center, effective Feb. 1. He replaces Doug Mitchell, who became the superintendent at Craggy Correctional Center on Dec. 1.
"Matthew Jones is the right person to lead Haywood Correctional Center," said Secretary Beck. "He has over 20 years of experience in corrections, as well as a long history with Haywood and the local community."
Jones began his career with the Department in 1980 as a correctional officer at Craggy Correctional Center. After moving to Haywood in 1980, he began to move up through the ranks. He became a sergeant in 1987 and assistant superintendent in 1992.
"Iím a people person and I enjoy working with the staff at Haywood," said Jones. " I am excited about the new position and I hope to continue to improve operations at the facility."
Jones is a 1978 graduate of Pisgah High School in Canton and holds an associateís degree in law enforcement from Southwestern Community College in Sylva. He has an Advanced Certificate from the North Carolina Criminal Justice Education Standards Commission.
Jones lives in Waynesville with his wife and two children. In his spare time, he enjoys hunting and playing softball.
# # #
Editorís Note: You can obtain a digital photo of Bullock by calling the Public Information Office at (919) 716-3700.
---
DPS | Adult Correction | Prisons | Community Corrections | Correction Enterprises | ACDP | News | Offender Info | Contact
© 1995-2012 North Carolina Department of Public Safety. All rights reserved.