Randy Williams settling in as manager of Judicial District 22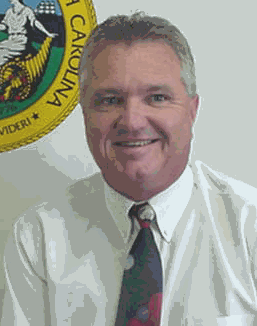 LEXINGTONóRandy Williams, who was appointed judicial district manager for District 22 of the Division of Community Corrections on April 1, is settling in to his new position. In his new role, Williams supervises probation and parole officers in Alexander, Davidson, Davie and Iredell counties.
"Iíve had every job from the lowest point to the highest point and itís definitely not a boring job," said Williams. "Each day is a new learning experience and a new adventure."
After serving as a Lexington police officer for five years, Williams began his career with the Department in 1986 as a surveillance officer in Davidson and Randolph counties. He went to college while he worked, earning a degree in criminal justice from Gardner-Webb University in 1990. The degree allowed him to advance through the ranks, serving as a probation officer, parole officer, intensive officer, chief probation and parole officer and division training coordinator in Division 3.
"Randy Williams has worked his way up the ranks in the Division of Community Corrections," said Beck. "His experience in many different roles will help him be a good leader and an effective manager for District 22."
Born and bred in Lexington, Williams still lives there with his wife Debbie, a juvenile court counselor. In his spare time, he likes to golf and work on his lawn.
# # #
For a digital photograph of Williams, call the Public Information Office at (919) 716-3700.