Don Wood named administrator at new Scotland Co. prison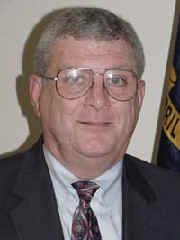 RALEIGH - Secretary Theodis Beck has named Don Wood as the correctional administrator at Scotland Correctional Institution, a new 1,000-cell high security prison currently under construction in Laurinburg.
"Don Wood is a 30-year veteran of this department," said Secretary Beck. "His management experience and long record of outstanding service make him my choice to open Scotland as the first facility in a new generation of larger and more efficient state prisons."
Among Wood's first tasks will be recruiting and hiring a staff of 400 employees and helping develop operating procedures for the state's new 1,000-cell prisons. Construction of Scotland CI is expected to finish in June 2003 and occupancy by inmates is projected for August 2003.
Wood has served since 1995 as the superintendent of Sandhills Youth Center, a minimum security prison for young males in Hoke County. His corrections career began in 1972 as a correctional officer at Moore Correctional Center. As a sergeant in the mid-1970s, he worked as a dog handler and extradition officer on the department's South Central Area Fugitive Squad.
In 1977, Wood transferred to Hoke Correctional Institution as a lieutenant and was later promoted to captain. In 1980, he was appointed administrative services manager for the South Central Area prisons. He served several months as acting superintendent at Scotland Correctional Center before being named superintendent at Moore Correctional Center in 1991 and administrator for the South Central Area prisons in 1994.
Wood is a graduate of Union Pines High School in Moore County and a graduate of the North Carolina Certified Public Managers Program. He currently resides in Lee County, where he enjoys golfing and spending time with his four children and four grandchildren.
Scotland Correctional Institution is the first of three new 1,000-cell prisons scheduled to open in the next two years. Lanesboro Correctional Institution near Polkton and Alexander Correctional Institution in Taylorsville are also under construction.
# # #
Editors: A digital photo of Wood is available by calling the Public Information Office at 919-716-3700.