Randy Polechio named Correctional Officer of the Year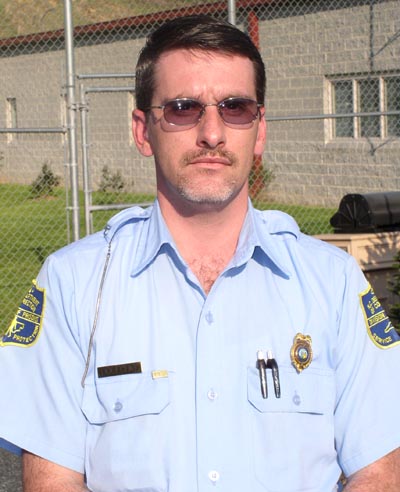 APEX – Randy Polechio was recognized today by Secretary Theodis Beck and the North Carolina Department of Correction as one of ten Correctional Officers of the Year.
Polechio is assigned to Mountain View Correctional Institution in Spruce Pine where he serves as a mentor to new officers. He also serves as a volunteer firefighter for the Grassy Creek Fire Department.
He is recognized for his actions on May 30, 2002, when he responded to a fire at the Mitchell County Jail. Officer Polechio and another firefighter entered the jail and crawled up a stairwell through heavy black smoke only to find inmates locked behind doors they could not open. When the doors were opened, Polechio carried four inmates out of the building. Two of those inmates survived.
"His acts of heroism during this tragedy display high character as a public servant for the state of North Carolina," said Mountain View Superintendent David Mitchell.
Polechio is a graduate of Mitchell High School and lives in Bakersville. He has served the Department of Correction for three years and also worked for Corrections Corporation of America, when it operated Mountain View Correctional Institution.
Mountain View Correctional Institution houses approximately 570 male inmates, in close and medium custody.
Governor Mike Easley has declared May 4-10 as Correctional Officers' Week in observance of the important public safety work done by more than 10,000 correctional officers working in North Carolina's prisons.
# # #
Editors: A digital photo of Polechio is available by calling the Public Information Office at 919-716-3700.