Tawanda Stanley named Correctional Officer of the Year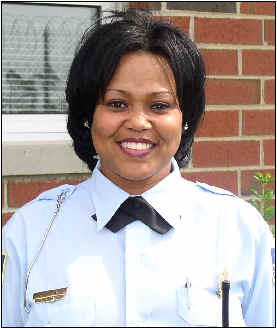 APEX –

Sgt. Tawanda Stanley was recognized today by Secretary Theodis Beck and the North Carolina Department of Correction as one of ten Correctional Officers of the Year.

Stanley is assigned to Neuse Correctional Institution in Goldsboro and serves as the housing sergeant for the permanent population and as assistant manager of housing. She is a certified instructor, a member of the prison's drug interdiction team and an orientation leader for new officers.

"Sgt. Stanley is unwavering in her dedication to her job, the institution and her fellow staff members," said Assistant Superintendent Milton Nowell. "She has demonstrated through her actions and demeanor the ability to handle difficult issues and readily accepts any new assignment or duty without question or concern."

Stanley is a graduate of Eastern Wayne High School and continued her education at Wayne Community College. She is a nine-year veteran of the Department of Correction.

Neuse Correctional Instutiton is a minimum-custody prison facility housing approximately 800 inmates. It serves as the admission center for all adult male misdemeanants entering the prison system.

Governor Mike Easley has declared May 4-10 as Correctional Officers' Week in observance of the important public safety work done by more than 10,000 correctional officers in North Carolina's prisons.

# # #

Editors: A digital photo of Stanley is available by calling the Public Information Office at 919-716-3700.