| | | | | |
| --- | --- | --- | --- | --- |
| | | North Carolina Department of Public Safety | | |
Inmates help clean Lake James in Big Sweep 2003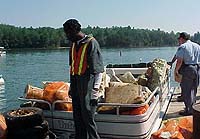 MARION - Some 200 volunteers converged on Lake James, Marion, NC on Saturday, September 20th, 2003 for the Annual "Big Sweep". Inmates and staff from Marion Minimum Security Unit and Rutherford Correctional Center, who made up about half of the total work force, picked up 392 bags of trash.
That's in addition to loose tires, refrigerators and other debris. The inmate crews picked up 5 to 6 tons of litter. Members of the Marion Moose Family Center volunteered their time and boats to transport the inmate crews around the entire McDowell County side of the lake.
Ms. Donna Stevens, Keep McDowell Beautiful Director, commented that it would be impossible to clean this much area without the assistance of the Department of Correction.
DPS | Adult Correction | Prisons | Community Corrections | Correction Enterprises | ACDP | News | Offender Info | Contact
© 1995-2012 North Carolina Department of Public Safety. All rights reserved.