Beck names Kenworthy to head Lumberton Correctional Institution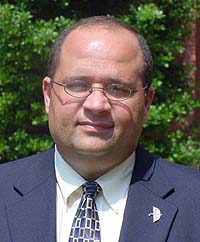 LUMBERTON – Correction Secretary Theodis Beck today named George Kenworthy as superintendent at Lumberton Correctional Institution.

Kenworthy has served as assistant superintendent for custody and operations at Lumberton CI since February 2002.

"George Kenworthy is a career corrections professional and a good public servant," said Beck. "I know that he will be an effective administrator and will work closely with the Robeson County community."

Kenworthy joined the Department of Correction in 1982 as a correctional officer at Scotland Correctional Center. He was promoted to sergeant at McCain Correctional Hospital and to lieutenant at Hoke Correctional Institution. He started work at Lumberton CI as a lieutenant in 1994 and was later promoted to captain.

He is a Robeson County native and graduate of Prospect High School and Pembroke State University, with a degree in criminal justice. He lives in Pembroke with his wife and two daughters.

Lumberton Correctional Institution is a medium-security prison in Lumberton housing approximately 700 adult male inmates.

# # #

Editors: A digital photo of Kenworthy is available by calling the Public Information Office at 919-716-3727.