Jennell Gaines named Correctional Officer of the Year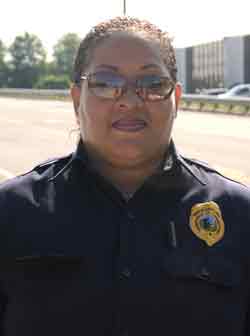 RALEIGH – Secretary Theodis Beck and Divisions of Prisons Director Boyd Bennett have named Jennell Gaines as one of 10 Correctional Officers of the Year.
Gaines, a correctional officer at Charlotte Correctional Center since January 2002, was selected for Officer of the Year for her contributions above and beyond the call of duty. The facility's superintendent nominated her for the honor for a variety of reasons.
As a supervisor of the inmates on a litter pick-up crew, Gaines has received numerous positive reports from the community. She often locates dangerous articles dropped on the roadside and ensures the disposal of the items. She also has located lost items of value to citizens and businesses and made sure they were returned to the rightful owners.
Gaines also recently assisted in organizing the annual State Employees Combined Campaign, a charitable giving program, at the prison. As a result of her efforts, the prison had a record year for donations, raising the largest amount in its history despite tough economic times.
"It was Officer Gaines' strong rapport with our staff and her dedication to the well being of those in need, which generated this high level of success," said Kenn Brown, program director. "Officer Gaines represents the best in terms of how a correctional officer should present himself or herself for daily duty," Supt. Richard Neely added. "She is an example of going the extra mile for her co-workers and the well-being of the public."
Governor Michael F. Easley declared May 9-15 as Correctional Officers Week in observance of the important public safety work done by more than 11,000 correctional officers in North Carolina's prisons. The department will hold a ceremony May 14 honoring Gaines and the other nine officers.
# # #
---