Pedro Jimenez named Correctional Officer of the Year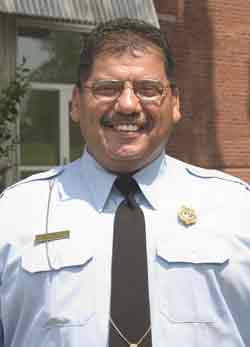 RALEIGH – Secretary Theodis Beck and Divisions of Prisons Director Boyd Bennett have named Pedro Jimenez as one of 10 Correctional Officers of the Year. Jimenez has been an officer at Western Youth Institution in Morganton for two years.
He was selected for Officer of the Year in the category for heroism. In November, Jimenez was stopped at a stoplight, when he was hit by a van that was then hit by another car. As Jimenez got out of his vehicle to see if anybody was hurt, the driver of another vehicle began screaming, "My baby's not breathing!" The lack of oxygen was causing the baby to turn blue.
Jimenez credits officer basic training for helping him save the baby's life. He remembered the first aid he had learned in officer basic training a year earlier. He determined that the three-year-old girl had a faint pulse, so he cleared her airway and performed rescue breathing. After two full slow breaths, just like he learned in training, the child opened her eyes and began crying.
Although the little girl is fine, Jimenez is still undergoing therapy and treatment for injuries he sustained in the accident. He is back at work supervising inmates. In addition to his normal duties, he helps interpret for Spanish speaking inmates.
"Officer Jimenez's act of heroism minutes after being seriously injured is an example of the outstanding qualities found in the employees throughout the Department of Correction," wrote Capt. Carlos Hernandez in his recommendation for Jimenez.
Governor Michael F. Easley declared May 9-15 as Correctional Officers Week in observance of the important public safety work done by more than 11,000 correctional officers in North Carolina's prisons. The department will hold a ceremony May 14 honoring Jimenez and the other nine officers.
# # #