Donald Mabry named Correctional Officer of the Year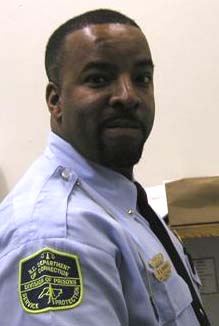 RALEIGH – Secretary Theodis Beck and Divisions of Prisons Director Boyd Bennett have named Donald Mabry as one of 10 Correctional Officers of the Year.
Mabry was nominated for high productivity and exceptional work. As an intake officer at Neuse Correctional Institution in Goldsboro, Mabry processes new inmates who have been sentenced to serve time in the state prison system for misdemeanor offenses. When the facility has experienced staff shortages, Mabry has volunteered to work overtime to ensure that all new inmate arrivals are processed the same day.
"He seeks solutions to problems he encounters without being told to do so and works to keep the processing area operating smoothly and efficiently, often handling both the yard and intake duty stations during staff shortages," wrote Capt. Glen Britt in his recommendation for Mabry. "Officer Mabry's work ethic along with his dedication has enabled us to complete the large volume of work facing the intake area each day."
A Rocky Mount native, Mabry began his career in corrections in December 1993 and helped in opening Neuse Correctional Institution. Prior to that, he served in the U.S. Air Force from March 1981 until September 1992.
Governor Michael F. Easley declared May 9-15 as Correctional Officers Week in observance of the important public safety work done by more than 11,000 correctional officers in North Carolina's prisons. The department will hold a ceremony May 14 honoring Mabry and the other nine officers.
# # #