Donna Outerbridge named Correctional Officer of the Year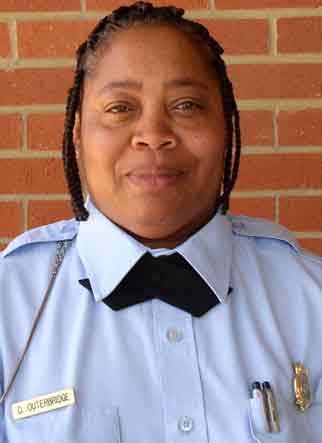 RALEIGH – Secretary Theodis Beck and Divisions of Prisons Director Boyd Bennett have named Donna Outerbridge as one of 10 Correctional Officers of the Year.
Outerbridge, an officer at Nash Correctional Institution in Nashville, is being recognized for finding hidden contraband and thwarting a potential escape plot. During a routine cell search, Outerbridge found a counterfeit State Bureau of Investigation badge and an identification card bearing the inmate's picture. Both items were of very high quality and would have been useful to the inmate as part of an escape plan. Instead, Outerbridge's actions thwarted the plan, consequently saving countless manpower hours and preserving state resources.
"Although Officer Outerbridge is a relatively new officer, having less than 12 months experience, she performs her duties on a day-to-day basis in a manner generally seen only in seasoned veterans," wrote Bonnie Boyette, correctional administrator at Nash. "At this particular era in our department, it is refreshing to see such a level of loyalty and dedication to duty in an employee."
Outerbridge joined the department in 2003. She is a graduate of North Carolina Wesleyan College.
Governor Michael F. Easley declared May 9-15 as Correctional Officers Week in observance of the important public safety work done by more than 11,000 correctional officers in North Carolina's prisons. The department will hold a ceremony May 14 honoring Outerbridge and the other nine officers.
# # #
Editors: A digital photo of Outerbridge is available by calling the Public Affairs Office at 919-716-3700.