Willey Phillips named Correctional Officer of the Year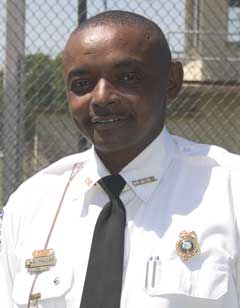 RALEIGH – Correction Secretary Theodis Beck and Divisions of Prisons Director Boyd Bennett have named Willey Phillips of Caledonia Correctional Institution as one of 10 North Carolina Correctional Officers of the Year.
Phillips is the food service manager at Caledonia CI. He supervises a staff of seven food service officers and about 60 inmate kitchen workers who prepare daily meals for Caledonia's population of more than 600 inmates.
Phillips manages one of the state's oldest prison kitchens and feeds one of the most diverse inmate populations. At the same time, he consistently maintains one of the lowest cost per meal rates in the Division of Prisons.
His contributions are not limited to the kitchen. Phillips also serves as a squad leader on Caledonia's Prison Emergency Response Team, which is trained to handle prison disturbances and to search for escapees.
In 1995, Phillips was able to obtain four mobile kitchens from federal government surplus and refurbish and equip them to become mobile field kitchens for the Division of Prisons. They are used in emergency and training situations and have become valuable assets to the prison system.
Phillips joined the Department of Correction in 1994 as a food service officer. He is a graduate of Gumberry High School in Northampton County. He also has completed dietary manager training at the University of Florida and advanced food service training at the U.S. Army Non-Commissioned Officers' Academy. He retired from the Army in 1994 with 17 years of service. He lives in Pleasant Hill.
Governor Michael F. Easley declared May 9-15 as Correctional Officers Week in observance of the important public safety work done by more than 11,000 correctional officers in North Carolina's prisons. The department will hold a ceremony May 14 honoring Phillips and the other nine officers.
# # #
Editors: A digital photo of Phillips is available by calling the Public Affairs Office at 919-716-3700.