Joseph Stuart named Correctional Officer of the Year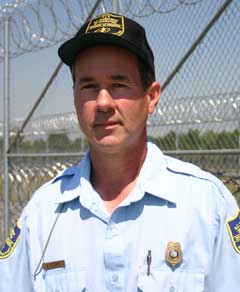 RALEIGH - Correction Secretary Theodis Beck and Divisions of Prisons Director Boyd Bennett have named Joseph Stuart of Lumberton Correctional Institution as one of 10 North Carolina Correctional Officers of the Year.

Stuart is the armory officer at Lumberton CI and is responsible for the cleaning, maintenance and safe storage of the 168 weapons assigned to the prison - including rifles, shotguns and pistols. He also maintains the prison's inventory of two-way radios and manages key control for the facility.

"Officer Stuart's high level of productivity is an example for others to follow," said Capt. Jimmy Evans, Stuart's supervisor. "His professional demeanor is always displayed and a great deal of pride is reflected in his work."

In addition to his duties in the armory, Stuart maintains equipment for the prison's emergency response team and maintains safety equipment for the prison staff. He also serves on the facility safety committee.

Stuart began his corrections career at Lumberton CI in 1994 and was assigned as the prison's armory officer in 2000. He is a native of Fairmont and a graduate of Fairmont High School and Southeastern Community College. He now lives in Lumberton.

Governor Michael F. Easley declared May 9-15 as Correctional Officers Week in observance of the important public safety work done by more than 11,000 correctional officers in North Carolina's prisons. The department will hold a ceremony May 14 honoring Stuart and the other nine officers.

# # #

Editors: A digital photo of Stuart is available by calling the Public Affairs Office at 919-716-3700.